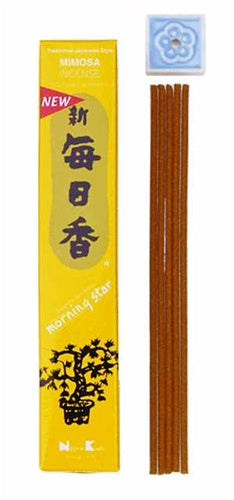 Sold Out
Morning Star Incense Sticks - Mimosa
$7
This product is unavailable
The best-selling incense for daily use. Morning Star incense was created in the 1960s in Japan. It has been loved for over 40 years not only by the Japanese but people all over the world. The powerful fragrances in this collection mixed with high quality ingredients such as pure floral essences and aromatic woods, have made this incense a beloved and trusted world-wide brand. Morning Star is perfect for when you want to create a relaxing atmosphere for meditation, or yoga.

Morning Star sticks have no bamboo core, which means there is no wood odour when burning, so you can enjoy the true fragrance of the incense. For meditation, relaxation, reading, listening music, peace of mind. Pack includes a small ceramic incense burner.
MATERIALS
Natural incense, ceramic holder
FEATURES
Mimosa, 50 sticks of incense / 25 mins per stick
DIMENSIONS
13 x 2.5 x 2.5 cm, 12 cm sticks
ORIGIN
Japan
DELIVERY
All orders are dispatched within 24 hours of purchase. Worldwide shipping is available.
RETURNS
If for any reason you're not happy with your order, feel free to return your item to us for a full refund within 28 day's of purchase. See our
Delivery & Returns
page for full details.
Our prices include tax and duties to Europe if the total order value is below 150 Euros (you won't be charged any additional taxes or duties when you receieve your shipment). Please note: orders above 150 Euros may incur additional taxes and duties at import. Please see our
Delivery & Returns
page for full details.




Worldwide shipping available



Need help - contact us