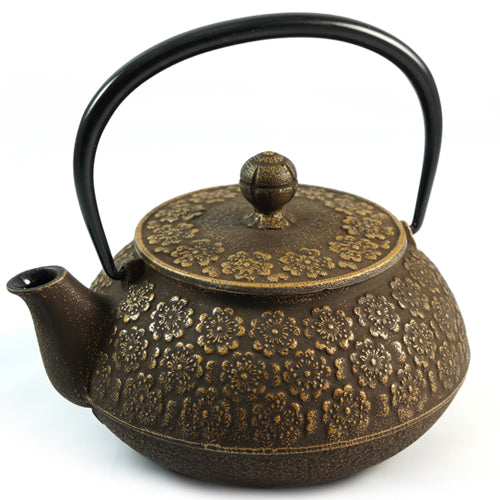 Sold Out
Iwachu Cast Iron Teapot with Sakura Blossom Pattern in Gold
$276
This product is unavailable
This beautiful cast iron teapot features a gold sakura (cherry blossom) relief, against a brown background. The teapot is hand painted and can hold 650ml.
This cast iron teapot is an artistic object for everyday use.

For over a hundred years Iwachu have been making tetsubin (iron tea pots) in the city of Morioka in Iwate prefecture. They are one of the most well known and respected manufacturers of Nanbu ironware, and are renowned for making tetsubin of superior quality and beauty. The teapot is enamel coated on the inside. It also comes with its very own stainless steel tea strainer. A guidebook is supplied with this teapot, which shows the manufacturing process, as well as instructions for its care and usage. Note: please read the supplied care instructions before using your teapot
MATERIALS
Cast iron, stainless-steel infuser
ORIGIN
Crafted in Morioka, Japan
DIMENSIONS
15 x 15 x 14 cm, 659 ml
DELIVERY
All orders are dispatched within 24 hours of purchase. Worldwide shipping is available.
RETURNS
If for any reason you're not happy with your order, feel free to return your item to us for a full refund within 28 day's of purchase. See our
Delivery & Returns
page for full details.
Our prices include tax and duties to Europe if the total order value is below 150 Euros (you won't be charged any additional taxes or duties when you receieve your shipment). Please note: orders above 150 Euros may incur additional taxes and duties at import. Please see our
Delivery & Returns
page for full details.




Worldwide shipping available



Need help - contact us