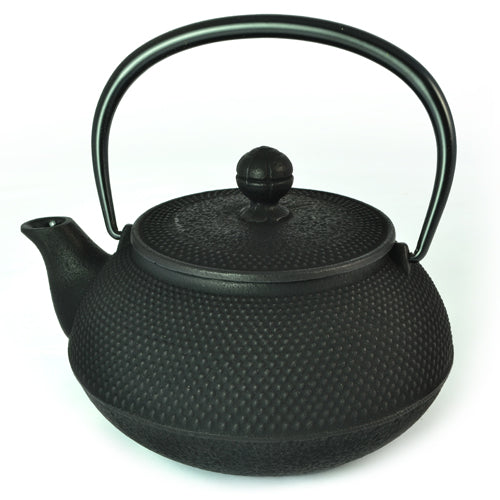 Sold Out
Iwachu Cast Iron Teapot with Arare Pattern in Black - 650ml
$233
This product is unavailable
Cast in Japan by Iwachu, this teapot features a classic 'arare', or hailstone pattern, and is hand finished in black.

For over a hundred years Iwachu have been making tetsubin (iron tea pots) in the city of Morioka in Iwate prefecture. They are one of the most well known and respected manufacturers of Nanbu ironware, and are renowned for making tetsubin of superior quality and beauty. Please note that the lacquered finish of this product is designed to fade and patinate over time in an attractive way.
MATERIALS
Cast iron, stainless-steel infuser
ORIGIN
Made in Japan
DIMENSIONS
17 x 17 x 10 cm, 650 ml
DELIVERY
All orders are dispatched within 24 hours of purchase. Worldwide shipping is available.
RETURNS
If for any reason you're not happy with your order, feel free to return your item to us for a full refund within 28 day's of purchase. See our
Delivery & Returns
page for full details.
Our prices include tax and duties to Europe if the total order value is below 150 Euros (you won't be charged any additional taxes or duties when you receieve your shipment). Please note: orders above 150 Euros may incur additional taxes and duties at import. Please see our
Delivery & Returns
page for full details.




Worldwide shipping available



Need help - contact us